Advantages of wi-fi thermostats
Around since 2011, the advantages of wi-fi thermostats are still unknown to a large number of homeowners. If you are still using a conventional thermostat and you are unaware of the advantages of wi-fi thermostats, then read on. Make the "smart" decision and educate yourself about these advantages!
What is a Smart Thermostat? If you are not tech savvy, let us introduce you to smart thermostats. There are basically two broad categories that they fall under: ones that offer internet connectivity to allow you to program and manage your thermostat from basically anywhere and ones that can learn your preferences and eliminate the need to program them manually.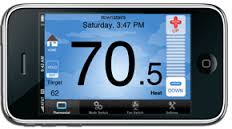 Advantages of wi-fi thermostats are:
Easy installation – while regular thermostats usually needed professional help, many of the "smart" thermostats are easy to install.
No more human error – one of the most significant exhibits of using a "smart" thermostat is their ability to learn your preferences and schedule to adjust the temperature accordingly. They can sense when you are home, even which room you are using to ensure maximum comfort.
Energy efficient – while the initial cost of a "smart" thermostat is a little higher, they make up the difference by saving money on electric costs. They can sense when you leave home and will adjust the temperature and reduce power consumption.
Remote monitoring and management – these "smart" thermostats come with a mobile app you can download on your phone and easily monitor the temperature even when you're away from home. Not only does it monitor, you can change the temperature remotely. This can also be done from a desktop computer or laptop. Remote management is the most impressive fo the advantages!
Email notifications – many "smart" thermostats will send you an email alert if the temperature goes too high or too low from its set range. You will also receive alerts for power outages.
User friendly – while they are loaded with many innovative features, they are still very simple to use. From their bright displays to their companion apps, they are extremely user friendly. While they do come with very easy to read manuals, there is always help online or over the phone.
Why not call us today if you're unsure about switching to a wi-fi thermostat. We can answer your questions!