Cooling System
Air conditioning systems today come in several different sizes and types, and the cooling system you decide to add or upgrade in your home will depend on what you already have, as well as the climate. Here in South Carolina, you will want a central or whole-house cooling system. Living in cooler temps you can opt for a portable window unit that can be placed in the window for a few months every year. An in between option could be a ductless mini-split system that is part inside and part outside.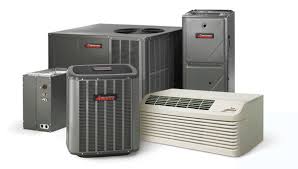 Today's best air conditioners use 30 to 50 percent less energy to produce the same amount of cool air as the units in years past. Even if your current cooling system is only 10 years old, you may save 20 to 40 percent of your energy costs by replacing it with a newer more efficient model. The most common efficiency rating is Seasonal Energy Efficiency Rating (SEER). The minimum SEER here in South Carolina is 14. This rating helps to compare how well the system will work at peak conditions. Also, be sure to look for Energy Star rated systems for the best energy efficiency.
Cooling systems have three important parts that include a compressor, a condenser and an evaporator. The compressor and condensor are normally located outside your home, while the evaporator is located on the inside. Most central air conditioning systems are split systems. The popular ductless mini-split system, which is slightly easier to install because of the lack of duct work, is still not quite the Do-It-Yourselfer project. Interior and exterior units must be installed and both refrigerant and condensation lines must run between the two elements.
Proper sizing is key for efficient air conditioning. A bigger unit does not mean a cooler home. Other important factors to consider besides climate, are height of ceilings in rooms, number of windows, and outdoor shading from trees and/or landscaping.
Be sure to call us at LHT Cooling and Heating for all your cooling system needs!