Evaporator Coil Leaks Caused by Corrosion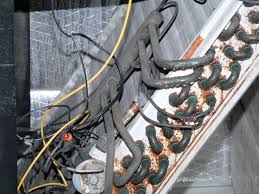 Your HVAC system relies on several different components to ensure keeping your home comfortable. Many of these components help refrigerant flow through the system. The actual cooling of your home takes place in the evaporator coil.
Cool liquid refrigerant flows through the evaporate coil, while warm air from your home moves across refrigerant lines. The coil's refrigerant absorbs the heat from your home's air. This causes the refrigerant to warm up. Then it turns into a liquid gas from the increase in temperature.
Unfortunately refrigerant can escape if there are leaks in the system. Often these leaks are found in the evaporator coil.
Evaporator coil leaks – refrigerant leaks can occur lots of places. The outdoor condenser unit can develop holes as a result of vibration. However, a surprising number of leaks occur on the evaporator coil.
These leaks tend to be very small – at least in the beginning. As time goes by, your refrigerant supply will dwindle. As a result, your system will struggle to provide cool air. It may run for longer periods of time driving energy costs through the roof. In addition, the long run times will cause abnormal wear and tear on the system – increasing the likelihood of expensive breakdowns.
Coil corrosion – corrosion tends to be the culprit behind the overwhelming majority of evaporator coil leaks. Evaporator coils are made out of a combination of metals, small tubing of either copper or aluminum, fins on the condenser, along with other structural metal plates. The copper and aluminum is vulnerable to oxidation cause by exposure to water and oxygen.
Another common source of corrosion comes from formaldehyde and acetate. Trace amounts of formaldehyde and acetate can be found in everything from plywood to cosmetics. Yet when they mix with moisture that forms on the evaporator coil, serious problems ensue.
These substances quickly turn into organic acids that weaken the thin copper or aluminum tubing of the coil. In as little as a few weeks to months, corrosion can eat through an evaporator coil.
The best way to combat this corrosion is to have your coils regularly cleaned by a licensed HVAC technician, like those here at LHT Cooling, Heating & Refrigeration, Inc.