Fall maintenance for your heating system . . .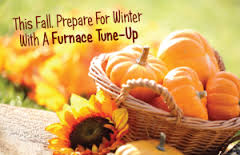 It may only be September, but now is the time to think about the Fall maintenance for your heating system. Even though we are still enjoying warm summer-like weather here in Myrtle Beach, it's not too early to have your Fall HVAC cleaning done. You will benefit greatly when that temperature starts to drop in a few short months. Some things to think about this Fall:
Clean out the gutters – All the leaves and grime that you neglected while you were at the beach this summer have built up in your gutters. If left full of debris, clogged gutters and drains can damage your drainage system and keep it from working properly. This can lead to water seeping into your home. You can save yourself the hassle by simply keeping those gutters clean.
Keep the outside air OUT and the inside air IN – We talk about this a lot, but it is very important for your energy savings to ensure that there are not air leaks in your home. Warm air will escape out any cracks and make your heating system work harder and cost you more money to maintain comfortable temperatures in your home. Use caulk to seal cracks and openings around door and window frames.
Show your furnace some TLC – Your furnace may be a distant memory since you last turned it on, but before the cold weather arrives and you reluctantly turn on that switch, give it some TLC. Clean your furnace each Fall. Sediment build-up can cause your system to work less efficiently or potentially become a fire hazard. Cleaning your system and getting it inspected will reduce the risks.
Get your ducts in a row – Your ducts are out of sight – out of mind! They are tucked away in the attic, basement or crawl space. Unfortunately, you can lose 20 percent of the air that moves through your duct system. Make sure they are in order by properly sealing and insulating them. Tightly sealed and insulated ducts can potentially save you $120 or more each year.
Light the way – The fall and winter months mean less daylight. I know we are all keen on saving energy, but no one wants to fall while carrying in groceries. Using energy saving bulbs, solar lighting and motion detection lighting will keep those bills low.
Colder weather is on the way and following this Fall maintenance for your heating system will have you ready when the temperature begins to dip!