Five reasons to replace your AC in the Fall
After a long, hot summer you are probably looking forward to turning off the AC and not thinking about it until Spring. You may want to rethink that and have your unit checked out by a licensed HVAC contractor – like those here at LHT Cooling & Heating! Check out these five reasons to replace your AC in the Fall.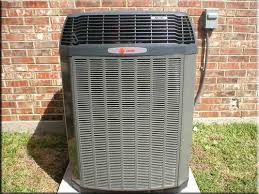 Saves you $$$ – By replacing your system in the fall, you put time on your side. Fall replacements give you the time to research the best type of equipment for your home and the best contractor in the area for the installation. Most HVAC companies offer discounts in the non-cooling and non-heating seasons. They also have more time to figure out the best solutions for your cooling needs.
You can get what you want – Since you and the contractor both have more time to figure out which system best suits your needs, you can also take advantage and see some of the latest technology available in HVAC systems. Today you have many more options than even 10 years ago. Superior nighttime comfort, humidity reductions, controls, communications and programmable and wireless thermostats are some of the features to consider.
Beware of the zombie heat pump – If you have an AC system that doubles as a heat pump in the winter, you definitely need to have it checked in the Fall. If it was not keeping up on those hot days in the summer, it will not keep up on those cold days in the winter. What happens is if they cannot keep up, they will switch to auxilliary heat strips. You won't notice a change in temperature and your unit sounds like its working, but you will get a very unhappy surprise when your utility bill arrives.
Can I rethink this? – If you have contractors out to check your AC system in the Fall, you have time for them to run some new calculations on both the actual cooling requirements of your home as well as the ductwork and airflow calculations. Having the wrong sized system creates multiple problems: If your system is too small, it will not keep up on the hottest or coldest days. If your system is too large, it will cycle too much and cause wide swings in your indoor temperatures. It will not remove the humidity efficiently. Closing room vents and doors makes your AC think your house is smaller and can do significant damage to the system or cause it to fail prematurely.
Last – but not least – consider the energy savings you will get from a high efficiency system. Customers who had the time to consider higher efficiency systems were more satisfied.
Most HVAC systems can last 15 years, although that drops to 8-10 here near the ocean. Give us a call at LHT Cooling & Heating to discuss the five reasons to replace your AC in the Fall!