Heat pump vs furnace
There are two types of heating systems to choose from: heat pump vs furnace. Figuring out which is best suited for where you live can be a difficult decision. Heat pumps, for instance, work better in warmer climates with a milder winter. Furnaces, however, can brave the harshest weather that nature can dish out.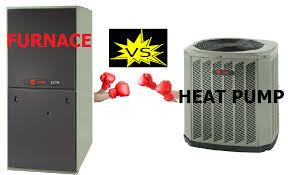 First, furnaces are measured using an AFUE (Annual Fuel Utilization Efficiency). The AFUE is an objective means of comparing two types of heaters. For instance, an AFUE of 60 percent would mean that 60 percent of the fuel burned by this heater can be used as useful heat to warm your home. The other 40 percent is wasted through your exhaust vent. The higher the AFUE percentage, the more efficient the furnace is.
Next is a heat pump which is basically an air conditioner running in reverse to heat instead of cool your home. Heat pumps come with a SEER rating for efficiency. SEER is Seasonal Energy Efficiency Ration. The higher the SEER, the more efficient the heat pump. Here in South Carolina the minimum SEER for heat pumps is 14.
The term heat pump can be misleading in that people assume that it only heats your home. Any heat pump when run in reverse is an air conditioner. So all heat pumps are air conditioners, but not all air conditioners are heat pumps. So why are heat pumps only a good idea in milder climates? Heat pumps transfer heat from one area to another. When it's -20 degrees in Montana, there is no outside heat to transfer. Ideally, a heat pump works best when the temperature outside is above 50 degrees. So what do you do to heat your home in Montana – you get a furnace.
The biggest pro for purchasing a furnace over a heat pump is that it will heat your home in any climate – regardless of the outside temperature. Of course, if you do live in a milder climate, like we do here in South Carolina, the biggest argument against a furnace is the cost of fuel. Also a problem here is the availability of natural gas. You can't assume that the fuel to heat your home is your choice.
So, if you are in an area that provides natural gas, you do have a choice between heat pump vs furnace. Call one of our experienced technicians here at LHT Cooling, Heating & Refrigeration, Inc. – we can help with your decision!