Heat Pumps
One great way to get efficient heating and cooling in your home is with a heat pump. Contrary to their name, they are not just for heating. They work for cooling too! A heat pump uses refrigerant to move heat from one place to another. During the summer, a heat pump captures heat from inside the home and transfers it to the outside through a condensing unit.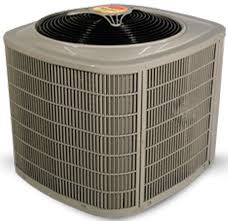 During the winter, the process is reversed. Heat is captured from outdoor air, compressed and released inside. Refrigerators and air conditioners are really just one-way heat pumps. Because they move heat rather than generate heat, they can provide up to four times the amount of energy they consume in electricity. Also because they use no combustion, there is no possibility of indoor pollutants like carbon monoxide. They generally cost more than air conditioning systems, but can be cost effective with installation costs.
Types of Heat Pumps:
The most popular type of heat pump is an air-to-air heat pump or air-source heat pump. These are often mounted to the interior of a wall and used mostly in moderate climates, as performance can lag with temperatures get below 35 degrees. However, there has been progress in the last few years making coils that produce larger heat.
Mini-split systems that have a part of the heat pump outside are quite useful for retrofit installations, as only a 3-inch hole has to be drilled between interior and exterior walls for the wiring and tubing for condensation and refrigeration. You should also consider the length of the tubing, how far the runs are and where the lines may have to be insulated.
Solar power mini-splits can be used in many southern climates, especially where air conditioning may be needed more on hot and sunny days.
You can also add a heat pump to an existing furnace for those times of the year when the climate is moderate and it might be more economical to run a heat pump rather than using gas, propane or oil. Just be sure the technician matches the systems correctly.
The last type of heat pump, usually used in larger homes over 4,000 square feet, is an absorption heat pump that uses ammonia-based water absorption or lithium bromide. These are essentially air-source heat pumps not driven by electricity, but by a source such as natural gas, propane, solar-heated water or geothermal-heated water.
To determine the best type of heat pump for your home, call a technician here at LHT Cooling, Heating & Refrigeration, Inc.!