How rain may affect my HVAC unit?
If you're worried about how rain may affect my HVAC unit ~ you may be concerned about the wrong things. We often hear concerns about whether or not rain has a harmful affect on your outdoor unit. Even with the heavy downpours we experience from time to time, there is no need to worry. Your outdoor unit is designed and constructed to resist rain damage and continue to function normally. The rain will NOT cause damage to your unit.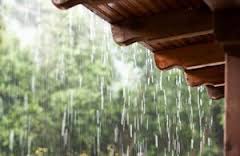 Most of the parts incorporated in the outdoor unit are aluminum, copper or metal and are engineered to withstand even torrential rainfall and keep on cooling and heating your home comfortably. The electrical connections and components are sealed to be resistant to the moisture. Not only can it withstand heavy rain, it can also stand up to wind, hail and snowstorms. Although the latter is rarely seen here at the Beach. So although rain will not affect your outdoor unit, there are several weather related problems.
Storm damage – while rain may not affect your HVAC unit, high winds blowing tree branches and other objects can damage the grille or deposit leaves and other debris inside. Inspect the exterior and interior of the unit after any severe storm.
Flooding – even though several inches of rainfall should not affect your unit, deep standing water from localized flooding will definitely affect it. Be sure to call one of the techs here at LHT Cooling, Heating & Refrigeration, Inc., if any part of your unit is submerged. And DO NOT turn it back on before it is checked by a licencsed technician.
Internal corrosion – many homeowners opt to cover their outdoor unit for the winter. We do not recommend this because moisture tends to get trapped under the cover and rot it from the inside out. Trapped condensation will rot wiring and rubber as well as corrode metal parts.
So there are many ways rain may affect my HVAC unit, but for the most part it will survive!