Hurricane winds can impact your HVAC
Hurricane winds can impact your HVAC is many disastrous ways!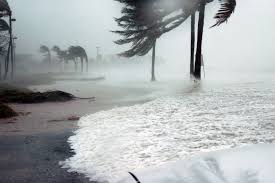 Condenser coil clogged with dirt and debris following high winds of a storm:
Dust and debris clogged condenser coils – high winds that accompany a hurricane often lead to excessive airborne dust and debris that will easily clog the aluminum fins of an HVAC's condenser coil. Fortunately, this is easy to clean using coil cleaner and a standard garden hose. Note you should never use a power washer to clean the condenser coils. The extreme pressure can flatten the coil's fins.
Coil fins damaged by windblown debris – the condenser coil's aluminum fins that surround the copper refrigerant tubing can be easily bent or flattened. If the hurricane winds send objects flying, they can easily dent the fins coils. Combing the coil's fins is the first and most likely remedy. If the coils cannot be combed, the coil will need to be replaced. Depending on the age of the equipment, it may be recommended to replace the entire condensing unit or even a full system replacement.
Condensing unit damaged by heavy, wind-blown objects:
Large foreign object impact to the condenser coil – unlike smaller debris, large heavy objects can be picked up by the winds of the storm and cause significant damage to an outdoor unit. Hurricane force winds can send large branches, shallow-rooted trees or other objects flying. If these objects make contact with the condensing unit, they can penetrate the refrigerant lines, damage multiple system components, or even crush the entire unit.
While the typical outdoor unit weighs 150 to 200 pounds, it can be easily blown askew from its position on the rooftop or ground pad. Following tornadoes or hurricanes, it is not uncommon to see displacement ranging from minor shifts to completely blown over.
Condensing unit blown off pad by high winds:
Once a condensing unit has shifted on the pad, it is important to assess whether or not the refrigerant lineset has been breached. If so, moisture and contaminants may have entered the refrigerant loop and can cause significant damage to the compressor. If the unit was blown over, the condenser coil and fan assembly may have been damaged.
As you can see, there are many ways hurricane winds can impact your HVAC!