HVAC Electrical Safety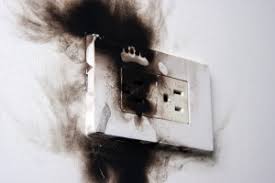 More fires occur in December than any other time of the year. Many are the cause of Christmas lights and decorations. Some are a result of HVAC electrical safety hazards. Don't let the latter happen in your home.
Schedule a professional tune-up of your system in the Fall to make sure your equipment is working safely and efficiently. In addition to preventing electrical problems, your HVAC technician will clean your system and make sure there are no carbon monoxide or refrigerant leaks. Our technicians here at LHT Cooling, Heating & Refrigeration, Inc., will inspect all components of  your system including:

Electrical disconnect box
Electrical wiring
Test/inspect contactors for burned, pitted contacts
Inspect electrical for exposed wiring
Inspect and test capacitors
Inspect fan and blower motor
Professionally clean entire system
Make safety and efficiency recommendations

Test smoke and carbon monoxide alarms

Make sure you install smoke and CO detectors on every floor of your home and in every sleeping area
Test the alarms every 30 days and replace batteries at least once a year
Replace alarms every 10 years as per manufacturer instructions

Teach HVAC and electrical safety to children

Exposed wires or plugs can give you an electrical shock
Never run cords under carpets or in high traffic areas
Keep cords out of reach
Don't overload outlets

Heating equipment safety

Keep flammable items away from heat sources: fireplaces, furnaces, portable space heaters
Don't put clothes on top of heat sources
Do not use extension cords with space heaters – plug directly into outlet – and don't plug anything else in that outlet
Turn portable space heaters off before going to bed

Extension cord safety

Replace damaged, frayed cords – never use on permanent basis
Make sure outdoor cords are rated for outdoor use
Never use extension cords for large appliances – do not plug air conditioners or space heaters into extension cords
Follow our HVAC electrical safety tips and have a safe holiday season!