HVAC units damaged by the storm
We will see many HVAC units damaged by the storm. Repairing or replacing a damaged HVAC unit should be left to the professionals.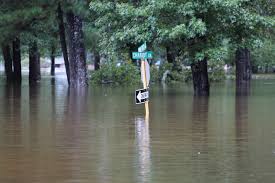 1. Easy fixes:
Depending on the type of unit, the type of storm and the severity of the storm, some damages may be easy fixes. After the storm/flood, it is possible for the damages to be minimal, especially if you took the proper preventative precautions. Some easy fixes include tasks such as replacing the circuit board or cleaning the coils.
2. Replacing part or all of the unit:
When the damage is severe, ignoring the unit or fixing it yourself is not recommended. Since HVAC units are not equipped to handle extreme flooding, it may be unrepairable. As you know water and electronic components DON'T mix. Water can cause corrosion within the electrical work. It may be determined that the whole unit does not need to be replaced – it may be recommended that certain parts be replaced. Duct insulation should be replaced if wet. Bacteria can build up and cause contamination through the ductwork.
The good news about replacing the whole unit is installing a new and more efficient model will keep you comfortable for many years to come. These newer units will also save you money on your utility bill because they are more environmentally friendly and use less energy to operate.
Conclusion:
Depending on the type of insurance you have and the area in which you live, you may be covered for HVAC repairs from flood damage. It is in your best interest to look into your policy or call the insurance company. Whatever the case may be, please call us here at LHT Cooling, Heating & Refrigeration, Inc. We will send one of our licensed technicians out to assess your equipment for damages if your HVAC units damaged by the storm.