Keep your a/c safe while decorating for Halloween
It's October. Everyone is pulling our their Fall decorations. Here are some tips to keep your a/c safe while decorating for Halloween.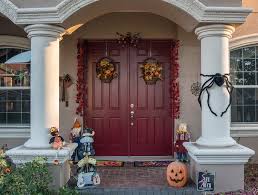 Maintain your system's safety when decorating. When the temperature starts to drop, out come the ghosts and goblins of Halloween season. Halloween is the first of the year-end holidays that bring out the decorating spirit in people. While decorating can be fun, it shouldn't compromise your HVAC system and the safety of your home.
Keep vents clear. The vents on the outdoor of your HVAC unit need to be open so that air can move in or out as needed. If these vents are blocked by Halloween decorations, the system will not get the airflow it needs. This will reduce it's performance. Indoor decorations blocking vents and registers can prevent air from leaving the ductwork.
Allow air flow. Both your cooling and heating system need an unobstructed source of airflow. Vents provide part of that. The outdoor unit needs to have plenty of space around it to ensure that enough air is available. If you put decorations too close, they will impede airflow and cause damage to the unit.
Spider webs – real ones – not decorations – can cause problems with the internal components of the outdoor unit. They can interfere with electrical connections and cause circuit breakers to trip. Pieces of cotton from artificial webs will cause those same problems.
Our goal is to help educate our customers in the Myrtle Beach area and to keep your a/c safe while decorating for Halloween