Know the difference between mold and mildew
Do you know the difference between mold and mildew? If you are a homeowner, you need to know! Mold and mildew are both types of fungi that can be found in your home. They both thrive in moist environments, spread easily, and live on various surfaces. If left unattended, however, they can affect large areas of your property and may even result in health issues or structural damage.

What is the difference between mold and mildew?
Mildew usually grows in a flat pattern and appears either powdery or fluffy. It can be easily identified as a patch of white or gray fungus lying on the surface of a moist area. It will turn black or brown over time.
Mold is usually fuzzy or slimy in appearance. It can be irregularly shaped and have different colors – blue, green, yellow, brown, gray, black or white. Often surfaces covered in mold begin to rot.
What are the different effects of mold and mildew?
Mildew usually affects plants and crops. If it develops indoors, it can pose health risks. When inhaled, mildew spores can cause coughing, headache, sore throat, and respiratory problems.
Mold can result in structural damage when left unattended. Prolonged exposure can cause a variety of health problems.
How to clean mold and mildew?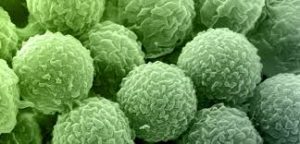 Mildew can be cleaned with a commercial cleaner and scrub brush. Work in a well ventilated area and wear a facial mask to prevent inhaling the mildew spores and the fumes given off by the cleaner. Clean all surrounding areas carefully to ensure that all fungi have been successfully removed.
Mold, however, attaches to the affected area with microscopic filaments that penetrate beneath the surface. The mold spores can survive in extreme conditions and cause permanent damage. We do not recommend DIY removal. The safest way to get rid of mold is to hire a professional mold remediation company.
If you are not sure you know the difference between mold and mildew, call us at LHT Cooling & Heating!