March is Spring Cleaning Season for your HVAC system
As you start to store away your winter things, remember March is Spring Cleaning Season for your HVAC system! This is the best time to prepare your HVAC system for the warm months ahead. LHT Cooling, Heating & Refrigeration, Inc., recommends a professional cleaning and tune-up on your system twice a year – in the Fall and in the Spring! Having a check up now will allow us to catch potential problems that could turn into larger, more expensive issues.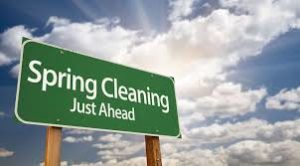 How to prepare your HVAC system for warmer weather:
Change the air filters: clean filters keep the air in your home healthy and maintain the system's efficiency. We recommend changing these filters on a monthly basis, but if you've forgotten here and there, now is the perfect time to change them.
Turn on the a/c: take a test run to see if there are any issues – listen for unusual noises.
Install or set a programmable thermostat: this is an energy saving tool that will set your a/c system to the ideal temperature throughout the day and night. With a smart thermostat, you can control the temperature from a smartphone, tablet or computer.
Clean the outdoor area surrounding the unit: sweep away fallen leaves, branches, dirt and debris around the outdoor unit. Trim bushes, grass and other plants so they don't crowd the unit.
When to call a professional:
Pre-season tune-ups: professional maintenance and inspections during the Spring keep your system running reliably and efficiently all Summer long. Our techs here at LHT will clean the evaporator coils, check the refrigerant levels, inspect and clean the fins, test the electronic components and much more.
Duct inspections: leaks in ducts can make a home feel very uncomfortable, humid and dusty. They also waste energy, which costs you money!
Summer is the busiest season for HVAC professionals. Don't wait for the 90 plus degrees to call us. There's no need to sweat through the Summer! Remember March is Spring Cleaning Season for your HVAC system!