Noisy air conditioner?
The first part of figuring out why you have a noisy air conditioner is to get an idea of where the sound is coming from and what type of sound it is. Is it coming from the compressor or is it the fan itself?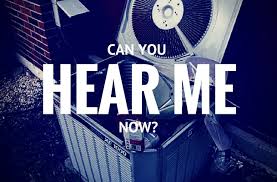 Step 1: Is the fan motor squeaking? A common problem when you are dealing with a squeaky fan blade is the dirt that accumulates on the blades causing an imbalanced noisy fan. This can be easily avoided by having your system cleaned by a professional HVAC technician like those here at LHT Cooling Heating & Refrigeration, Inc. Even the slightest bend or imbalance can cause your blade to scrape it's casing. If your blade is damaged, it will need to be replaced. If it is loosened, it just may need to be tightened. The bearings could also be in need of lubrication.
Step 2: Is there rattling from the exterior condensing unit? The most common cause of rattling is something loose.
Step 3: Is there rattling coming from the a/c ducts? This will require a trip to the attic to determine. Check the ducts for loose joints and tighten them with screws or duct tape. Of course, unless you are experienced, call the techs here at LHT. Use common sense and seal the leaks.
Step 4: What kind of sound is my noisy air conditioner making? Once you have localized the sound to where it is coming from, listen to the type of sound it is making. The more harsh the sound, the more likely it is a serious problem. If it hurts your ears, time to call us!
Mild squeaking – likely not serious – a bearing in need of lubricant or a dirty fan blade
Rattling from AC or duct – again, not very serious – likely a loose panel in need of tightening, or a loose AC duct
Grinding noise – more serious – a bearing is likely going to fail, and if not replaced soon, it could damage other parts of your HVAC unit
Hissing sounds – usually the most serious – if it's coming from the air conditioning unit, the most likely cause is leaking freon. Don't freak out though unless you are certain that it is coming from the AC unit itself – hissing could also be loose ductwork, which is not that serious. When in doubt, give us a call!
The answer to a noisy air conditioner just isn't that simple. But in the end, there are some things you can do yourself. But remember not to get in over your head and call LHT Cooling and Heating. One of our licensed and professional technicians is here to serve you!