Options for heating and cooling a sunroom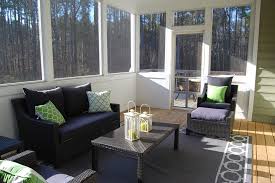 Are you looking to add a sunroom to your home? Keeping it comfortable can be a struggle. You have several options for heating and cooling a sunroom. Here in South Carolina, our summers are very hot and humid, but we also need to heat our living space in the winter. Deciding which option works best for you will depend on a few things such as the size of the room, the location of the room (facing into or away from the sun), and the purpose of the room.
Central heating and air systems – Take control over the temperature with a central heating and cooling system. If you already have ductwork in your home, you can extend it into the sunroom. This will keep your entire home on the same system. This will only work if your current system can handle the extra square footage. You can have one thermostat to control the whole house, or a better option would be to have a separate thermostat control just for the sunroom. If your current system cannot handle cooling or heating the additional space, there are still other options.
Ductless Mini Split system – Ductless mini splits can be a good choice for a sunroom, especially when installing ductwork for a central system is not feasible. Mini splits are somewhat like central air systems. They have two major components: an outdoor compressor/condenser and an indoor air handling unit. A conduit houses the power cable, refrigerant, suction tubing and condensate drain linking the outdoor and indoor units. There are many advantages to installing a mini split. The mini split can be wall or ceiling mounted and can be used for heating and cooling. They are smaller in size and offer a lot of flexibility in where they can be installed. They are also fairly easy to install, energy efficient and very effective for heating and cooling.
Portable heating and cooling units – Portable units are similar to the old fashion window units. Because they are not permanently mounted, installation is fairly simple. The difference with these newer portable unit is that they do not protrude from the window. Disadvantages of the portable unit is that many are bulky and can take up space. It is also harder to get a precise temperature, especially when it is very hot outside.
When considering your options for heating and cooling a sunroom, it's best to have a licensed technician help out. Call us here at LHT Cooling, Heating & Refrigeration, Inc.!