Protect your AC system during hurricane season ~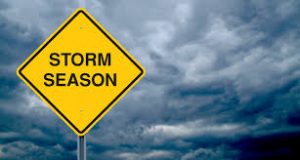 June 1st thru November 30th is hurricane season. With luck, we won't experience any massive hurricanes this year. However, they are quite unpredictable – so protect your AC system during hurricane season with these tips.
The first recommendation is to shut everything down if it looks like a power outage is inevitable. This will help reduce the risk of blowing out circuits and burning out the compressor when the electricity does return. Here are some additional tips to protect your AC system during hurricane season with high winds, falling debris and dangerous lightning.
To-Do List for Hurricane Preparation:
Turn your AC unit off prior to the storm.
If you have a window unit, unplug it entirely – you can even bring it inside and shut the window.
Cover your outdoor unit and make sure it is secure.
Do not turn your unit back on immediately following the storm.
Inspect the unit and surrounding area first to ensure it is in proper working condition.
Once the storm has passed, check your outdoor equipment for any damage like dents or dings from fallen debris. There could be water in the system or contaminants could have lodged in the fans or ducts. There's also the possibility that the coolant or electrical lines could be damaged. If you feel there is something obstructing your system and preventing it from working properly, it might be best to contact your HVAC experts, like those here at LHT Cooling, Heating & Refrigeration, Inc., before you turn the unit back on.
Remember as you make plans and prepare your emergency hurricane kits, take care to watch your heating and cooling systems. You've spent a lot of money have these systems installed and maintained. With the proper precautions you can protect your investment and avoid coming home to an unpleasant situation.
Remember if you're system is badly damaged, call us here at LHT!