Rainy days and your A/C
Let's talk about servicing your A/C in the rain, and why it's not a good idea. Rainy days and your A/C don't mix. No one likes to be uncomfortable! We get tons of calls from both long time customers and new prospective clients requesting our service for their ailing air conditioners. And – we want to help – but sometimes Mother Nature has other thoughts in mind.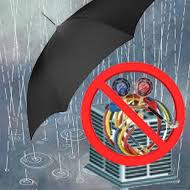 Here at LHT Cooling, Heating & Refrigeration, Inc., we value our customers greatly – but we also value our employees! Safety First! So, working on electrical equipment in the rain can not only jeopardize the safety of our technician, but can cause damage down the road to your system. Water and voltage just don't mix!
So, how can you survive during a storm when your home is hot and our techs cannot service you immediately.
Turn  off your system at the thermostat – if your system is low on refrigerant, it will "freeze up" causing damage to the components.
Open windows that will create cross-ventilation. If you have ceiling fans, use them.
Dress lightly, layer your clothing for increased comfort.
Be reachable . . . be sure your tech knows you'll be available as soon as the rain stops. We'll keep your service call active and you won't lose your place in line.
Be patient! We truly want to take care of you.
While we know you're uncomfortable, calling every contractor in the area only to find the same response will just increase your frustration.
Know that we want to take care of as soon as possible, but with rainy days and your A/C – it's always SAFETY FIRST!