Repair vs. Replacement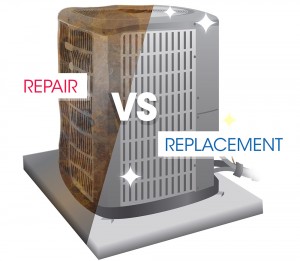 If your HVAC is moving up in age and your find yourself needing yet another repair to the unit, you may be contemplating Repair vs. Replacement. Many considerations will go into your decision.
Benefits to Replacement
Cost savings: If your system is more than 10 years old and repairs costs are approaching 50 percent of the value of the system, you can save a lot of money and energy by upgrading to a new system.
Tax incentives: In addition to energy savings, available tax credits and incentives could save you up to 30 percent.
Warranty: Most newer units come with a 10 year warranty, which helps save on repair costs should any issues arise.
Convenience: No more waiting around in uncomfortable temperatures waiting for repair service or hard to find parts.
Does Repair Make Sense
Newer systems: For relatively newer systems, it is likely that repairs will make the most sense, especially if they are under warranty.
The 50 percent rule: If the repair cost is less than half of its value and you haven't needed monthly service calls, repair may be easier on your checkbook.
Moving: If you are planning to move out of your current home, talk with a real estate professional to determine whether repair or replacement is in your best interest.
Maintenance: Some simple maintenance techniques may help prolong the life of your equipment and make immediate replacement unnecessary. Your technicians here at LHT Cooling and Heating can help you with this decision.
Recognize the Time
Age: The EPA recommends HVAC systems older than 10 years and furnaces older than 15 years be replaced. They may last longer, but they are losing energy efficiency and over time will cost more.
Frequent breakdowns: If your system cannot handle the demands during the hottest and coldest times, repairs may not be the way to go.
Noise: If your system is overexerting itself and becoming excessively noisy, it may be time for a replacement.
If you're struggling with Repair vs. Replacement, call us at LHT Cooling and Heating. We can make the process easier for you!