Thermostat myths busted
Your thermostat controls the cooling and heating in your home. You think you know everything you need to know about it, but here are some thermostat myths busted!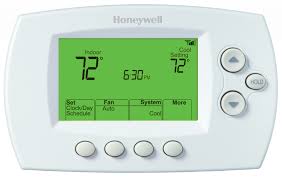 Myth 1: Turn the thermostat up or down when it's hot or cold outside. (52% of people do this) This shouldn't be necessary, because the very purpose of the thermostat is to maintain the desired temperature, whatever the weather. If you turn your thermostat too high or too low, you will have wasted energy and cash in the process.
Myth 2: Turn the thermostat up to heat the room more quickly, or down to cool it more quickly. (35% of people do this) If you come home to a chilly or hot house, it may seem tempting to turn up or down the thermostat – BUT it won't get you to a comfortable temperature any sooner. People assume the thermostat works similar to the gas pedal in your car. Press the pedal down harder and you go faster. But the thermostat does NOT control the speed at which your house heat up or cools down – it just controls the final temperature. So you won't get to that final temperature any faster, but you will waste energy and money and most likely end up with a too hot or too cold house.
Myth 3: Leaving the heating or cooling on is more efficient than turning it on and off. (38% of people think this) This simply means your home is heated or cooled when no one is there to benefit. It is much better to use a programmable thermostat to control the timing of your heating and cooling to coincide when you are actually in your home and save you money when you are not.
Myth 4: You need to keep your water heater on all day to make sure you don't run out of hot water. (31% of people think this) Some people leave their hot water heater on all the time so they won't run out of hot water. This could be costing you much more in your utility bills than necessary. You will want to make sure your hot water tank is properly insulated. Set your hot water to come on roughtly half an hour before you want to start showering in the morning, and again later in the day if you'll be doing laundry or running the dishwasher.
So there you have some thermostat myths busted. If you would like to install a programmable or wi-fi thermostat, call us at LHT Cooling & Heating!