Tips to survive a heat wave . . .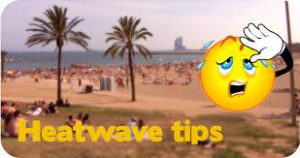 June is nearly over and July will be here in a few days! Here are tips to survive a heat wave this summer. That means the hottest days of summer are here. For those of us who anticipate the heat, this is great news, but for many of us the hot weather can be unbearable.
Be sure your air conditioning is running smoothly. This, of course, is a big one! Keeping your a/c unit maintained will help assure you that you a/c will be pumping full force for this heat wave. If your a/c does break down, don't forget to call a licensed technician, like those here at LHT Cooling and Heating.
Stay hydrated. Drink water! This is important every day, but especially on days that reach into the 90's when your body's natural reaction is to sweat. Avoid beverages that can dehydrate you, like carbonated or alcoholic drinks. Be sure to drink more than you usually need. Replenishing the liquid in your body is a large part of what keeps your body temperature low.
Leave NO one in the car! We know this is obvious, but extremely important. Don't leave children or pets in the car for any amount of time. Even an 80 degree day outside is easily up to 125 degrees inside a vehicle. So remember to bring the kids in, even for quick stops, and the the dogs at home during heat waves.
Slow down. Strenuous activities need to be reduced or eliminated on very hot days. If you work outdoors, keep hydrated and try to take frequent breaks in the shade. Pace yourself if you feel that outdoor exercise is necessary. Be sure to pay close attention to how your body reacts to the heat and exertion.
Of course, as your a/c company, LHT puts your a/c first! But following these tips to survive a heat wave will keep you healthy and comfortable all summer long!