Using a fireplace may affect your HVAC
A fireplace is a wonderful addition to any house and can be an effective way to help heat your home if used properly. Unfortunately, many homeowners don't know how using a fireplace may affect your HVAC. The reality is many homeowners are literally burning through their savings, sending their energy bill up in smoke, and compromising their health.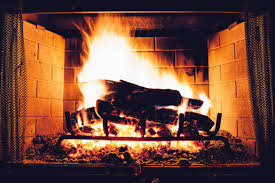 The "damper" puts a damper on saving energy. If your fireplace's damper is unsealed or open, your overall energy use can rise up to 30%. As heated air goes up the chimney, cold air from outside is being sucked in to replace it. If that's not bad enough, 80% of the heat produced by the fireplace is lost up the chimney.
There are several ways to offset the energy loss when using your fireplace:
Make sure your dampers are closed when not using the fireplace
Check that the seal around the damper is in good condition
Install glass doors on your fireplace
In addition to raising your energy bills, fireplaces can also affect the air quality in your home. They release dangerous pollutants such as:
Carbon monoxide will give you flu-like symptoms as it interferes with the body's ability to utilize oxygen
Nitrogen dioxide is an eye, nose and throat irritant that can cause shortness of breath in high concentrations
Particles are released during the combustion of any fuel (wood or gas) and can work their way into your lungs causing damage
So don't board up your fireplace just yet. Follow these suggestions to keep your family warm and healthy:
Choose proper fuel. Use dry seasoned wood. Never use painted, wet or treated wood.
Don't neglect maintenance. Have your fireplace and HVAC system inspected annually.
Add an air purifier and change your HVAC's air filters!