UV lights for your HVAC
Many studies have proven the effectiveness of UV lights for your HVAC system shown to kill mold and bacteria. The effectiveness of germicidal UV radiation for reducing fungal contamination in air handler units. In one office study after 4 months of operation, the fungal levels following UV operation were significantly lower.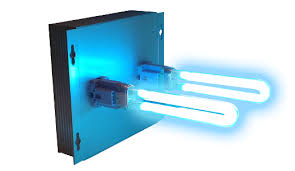 There are 2 types of UV lights for your HVAC system:
Coil sterilization – a "stick type" light installed inside the return air duct sterilizes the air handler coil. A coil sterilization light runs 24/7 and is the most common UV light. It is also reasonably priced.
Air sterilization – a complete UV light unit that sterilizes moving air. This UV light in installed in the return air duct and cycles on with the air handler blower.
Maintenance: the UV stick light bulb is estimated to last 9000 hours or just over a year. Replacing the bulb during annual maintenance is nearly effortless.
Energy cost: for just under $24 in utility costs, you can have the peace of mind that you are breathing the highest quality indoor air.
Indoor air quality priorities: while UV lights for your HVAC are effective for killing mold, bacteria, germs and odors, make sure you have completed your indoor air quality basics:
Seal air ducts during renovation or construction
Install air ducts in conditioned spaces
Ensure air-tight ducts, sealing all joints with mastic
Install and change air filters monthly
Install UV light
Conduct regular maintenance, changing filters and semi-annual cleanings
Benefits:
Control mold and bacteria
Reduce colds and flus – germs are NOT re-circulated
Reduce clogging in condensation drain lines by preventing algae growth
Maintains a cleaner coil, improving cooling efficiency and reducing electricity costs
So, be sure to call LHT Cooling and Heating to have one of our licensed service techs install UV lights for your HVAC! You and your home with breathe easier!