Win the war against pollen . . .
It's officially pollen season! Everything is in full bloom and that dreaded yellow pollen cloud is everywhere. Your car is covered, your home is covered, and we here at LHT Cooling, Heating & Refrigeration, Inc. have your HVAC system covered! To win the war against pollen, the following steps will help you deal with this inconvenience as best you can.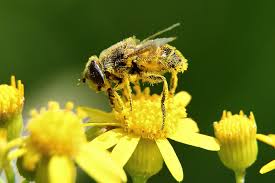 Tips for dealing with pollen:
Check the pollen count in your area daily.
Keep your doors and windows closed – especially when pollen counts are high. The warm temperatures are tempting to throw open all the windows and doors and enjoy the fresh air, but using your filtered air conditioning system will be much better for your air quality.
Set the the A/C in your car to recirculate rather that bringing in fresh air from outside which is full of pollen.
Most plants pollinate early in the morning. If you enjoy a walk with family or pets, do it in the evening.
Speaking of pets, they become pollen collectors. Be sure to wipe them down with a damp cloth after they have been outdoors.
Dry and windy days stir up the pollen. The best time to enjoy outdoor activities during the Spring is after a heavy rainfall.
Do not air dry your laundry – pop it in the dryer instead.
Sunglasses provide protection for your eyes from pollen.
If you must do yard work, consider wearing a mask that you can purchase from a home improvement store.
When you come in from outdoors, change your clothes and wash your hands and face.
Make sure to have your duct system inspected by a licensed HVAC technician, like those here at LHT! Leaky ducts are not only wasteful but can also suck in irritants, like pollen, and recirculate them through your home.
Also seal up an cracks around windows and doors. Not only does this heat or cool the outdoors instead of your home, it also lets the pollen in.
So, this Spring, follow these 12 tips and you will win the war against pollen . . .