Ways to Protect your HVAC System during Stormy Season
If you live in South Carolina, you know that we get a lot of tropical storms and hurricanes this time around. So, to help everyone out, here is a list of ways to protect your HVAC system during stormy season.
Clean around the Outside Unit
An easy way to protect your system is to clean the area around your outside unit. Fall is here so you may have a lot of leaves or trash around your yard. Cleaning that and keeping it away from your system can help prevent debris getting lodged into your system. Also, make sure there are no plants growing onto your system to prevent clogging.
Check for Leaks
While you are outside cleaning the area around your unit, we recommend checking for leaks. If there is a leak, you can call us to check it out for you. This way, we can prevent water damage when the storms pass on by.
Elevate your System Before the Stormy Season Does
During this time of year, it is common for floods to see about our homes. We want to make sure that water doesn't get into our HVAC system. Elevate your outside unit. Even if it is only a few inches, it will help in the long run. Elevating your system before the stormy system will avoid water damage and other possible downfalls.
Cover, Secure, and Turn Off
Last but not least, follow our recommended cover, secure, and turn off rotation. First, cover your outside unit with a tarp. Next, make sure the tarp in secure to help prevent storm damages. Last, turn off your system just before the hurricane or tropical storm hits. You can do this from your breaker or thermostat. Storms can cause electrical surges, therefore, turning off your system can stop the surges from reaching your system and possibly causing a fire.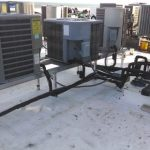 We hope you learned some new ways to protect your HVAC system during the stormy season. Attached below is a link to learn more about evaporator coil leaks: https://lhtcooling.com/evaporator-coil-leaks/